Stories
Meet the force behind labor activism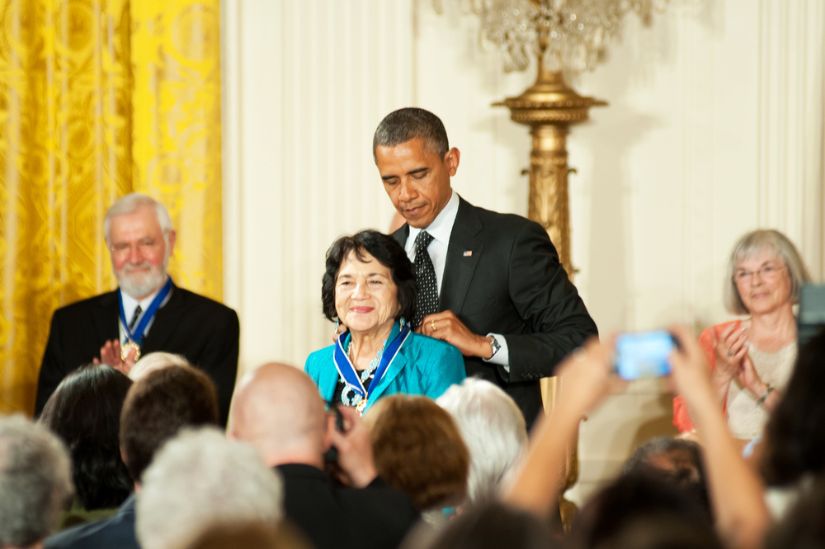 Co-founder of the United Farm Workers Association, Dolores Clara Fernandez Huerta is one of the most influential labor activists of the 20th century and a leader of the Chicano civil rights movement. Discrimination also helped shape Huerta. A schoolteacher, prejudiced against Hispanics, accused Huerta of cheating because her papers were too well-written. In 1945 at the end of World War II, white men brutally beat her brother for wearing a Zoot Suit, a popular Latino fashion. 
Huerta received an associate teaching degree from the University of the Pacific's Delta College. In 1955 Huerta began her career as an activist when she co-founded the Stockton chapter of the Community Service Organization (CSO), which led voter registration drives and fought for economic improvements for Hispanics. She also founded the Agricultural Workers Association. Through a CSO associate, Huerta met activist César Chávez, with whom she shared an interest in organizing farm workers. In 1962, Huerta and Chávez founded the National Farm Workers Association (NFWA), the predecessor of the United Farm Workers' Union (UFW), which was formed three years later. Huerta served as UFW vice president until 1999.
Despite ethnic and gender bias, Huerta helped organize the 1965 Delano strike of 5,000 grape workers and was the lead negotiator in the workers' contract that followed. The recipient of many honors, Huerta received the Eleanor Roosevelt Human Rights Award in 1998 and the Presidential Medal of Freedom in 2012. As of 2015, she was a board member of the Feminist Majority Foundation, the Secretary-Treasurer Emeritus of the United Farm Workers of America, and the President of the Dolores Huerta Foundation.